"Chaque soir de pleine lune les invité·e·s, artistes et activistes, racontent comment, jour après jour, iels contribuent à créer la société dans laquelle iels veulent vivre. Animé·e·s par des valeurs égalitaires, iels construisent d'autres modes de vie, de réflexion, de création, chacun·e à sa manière. Avec iels, on se posera des questions : quelles stratégies de résistance politique dans quels contextes ? Comment tendre vers une économie circulaire ? Comment œuvrer à une culture régénératrice ?"
__ Client : Gang Of Witches __ Rôle : Identité visuelle, photographie & webdesign
Gang Of Witches lance son deuxième podcast pour penser globalement et agir localement avec l'écoféminisme. Un peu plus d'un an après y avoir créé un Coven*, les artistes de Gang Of Witches lancent leur deuxième podcast à Ibiza. Des sorcières révolutionnaires, internationales et/ou ibiziennes, s'entretiennent avec la journaliste britannique Jo Youle. Avec les invitées, l'animatrice explore différentes manières d'utiliser la pensée écoféministe pour répondre aux défis de l'île et accélérer sa transition vers une culture régénératrice.

Disponible en anglais 🇬🇧 et en espagnol 🇪🇸, bonne écoute 🎧 🔥.

*Coven : Le Coven est le sanctuaire de Gang Of Witches, il est habité et géré par les artistes du gang.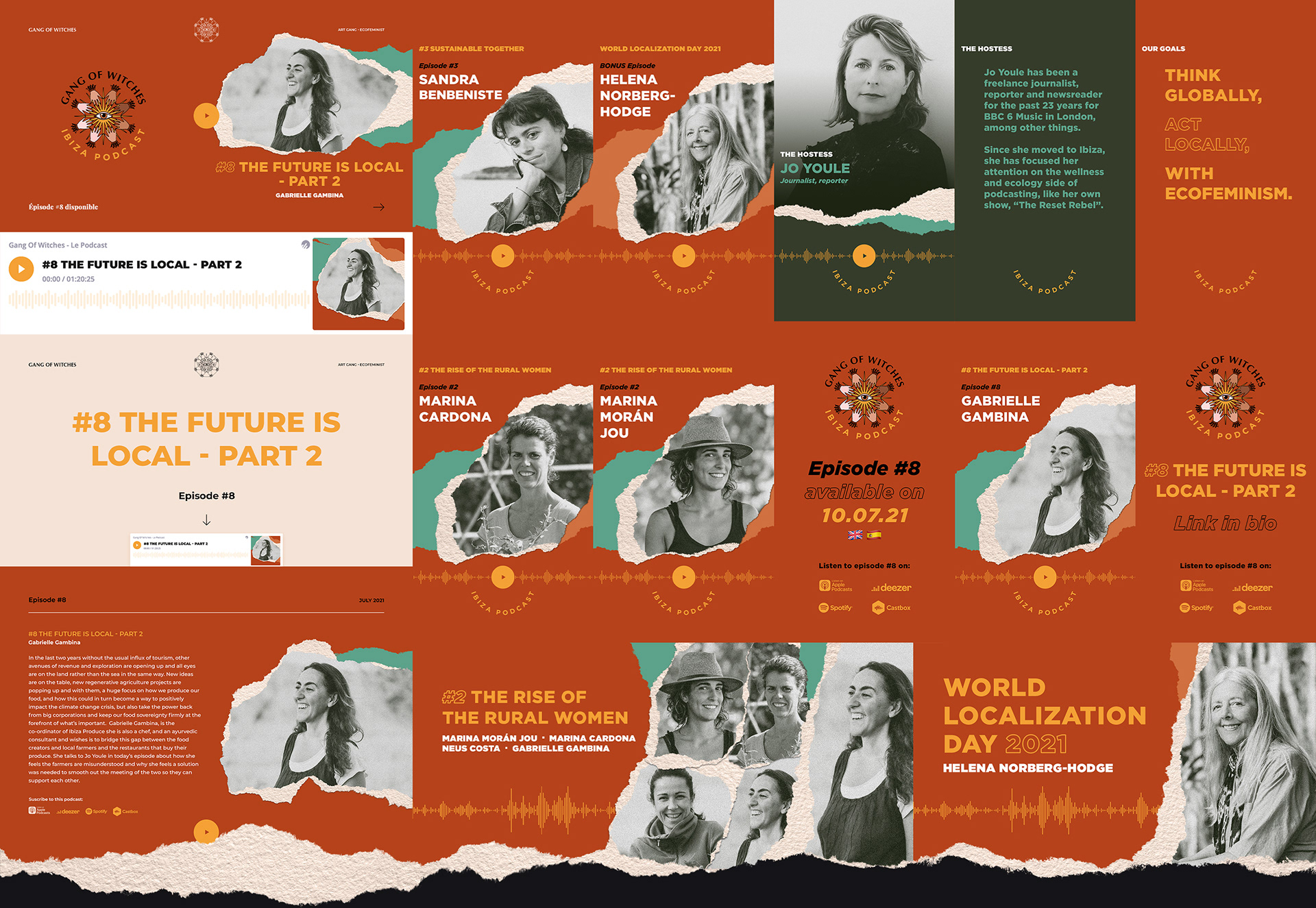 Branding & Web design:

Vivien Bertin
Motion design:

Julien Caillé
Web development:

Perrine Bocquin
Wording:

Paola Hivelin & Sophie Rokh
Gang Of Witches - Le Podcast
Production:

Gang Of Witches
Conception:

Gang Of Witches, Sabrine Kasbaoui
Editing:

L'Arrière Boutique
Sound design:

Gang Of Witches
Gang Of Witches - Ibiza Podcast
Production:

Gang Of Witches
Conception:

Gang Of Witches, Jo Youle
Editing:

Reset Rebel Productions
Sound design:

Gang Of Witches
Ibiza Podcast: Luana Failla / Ruth Davey / Jon Izeta / IbizaNeverClose - Le Podcast: Vivien Bertin / Franck Aubry / Jerry Hyde / Olivier Marty / Severyna Jaunasse / Sheila Menon / Arja Hyytiäinen / Richard Dumas / Laura Rigaud / Gabe Harrivelle / Élise Chanet / Stephan Readmond / Nicolas Guiraud / kavehrne / Christophe Crénel / Quentin Caffier / Marie Rouge / F. Mantovani